When:
4 November 2017 @ 15:00
2017-11-04T15:00:00+01:00
2017-11-04T15:15:00+01:00
Where:
Lutherse Kerk
Haddingestraat 23
9711 KC Groningen
Nederland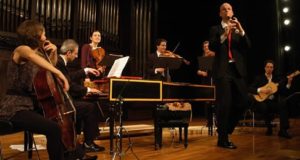 Concert: organ and baroque orchestra 'Cordevento XL' with Erik Bosgraaf, recorder
Organist: Matthias Havinga
Cordevento ensemble conducted by Erik Bosgraaf
The world-famous Cordevento ensemble led by the recorder player Erik Bosgraaf present a wonderful programme, including a piece composed for the occasion: the inauguration of the new organ of the Lutheran Church. The composer, the South–Korean Seung-Won Oh, has written an intriguing modern work for this organ and the ensemble. Modern idiom and ancient styles come together in this piece, with its mysterious sounds and brilliant soloist parts.