When:
4 November 2017 @ 09:00
2017-11-04T09:00:00+01:00
2017-11-04T09:15:00+01:00
Where:
Martinikerk
Martinikerkhof 3
9712 JG Groningen
Nederland

Cost:
Free entrance for the public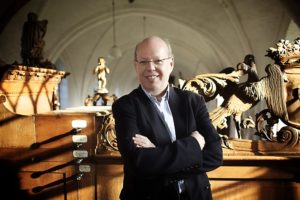 masterclass in de Martinikerk door Stef Tuinstra
Organist: Stef Tuinstra, supported by the Prins Claus Conservatorium
Entry is €20, applications are due before 1st October 2017 info@schnitgerfestival.nl
If you study at a Conservatory or Music School, or if you are a practising organist wanting to improve your organ skills, do enter your name for this masterclass. The masterclass in Martinikerk is a unique opportunity for students to play the famous Schnitgerorgel in this church, one of the largest baroque organs in Northern Europe. Stef Tuinstra is a connaisseur of the possibilities the organ offers. He has had an impressive concert career, and has taught the organ, harpsichord and piano, as well as improvisation, church music and organ construction. He founded the Noord-Nederlandse Orgel Academie (NNOA), produces CDs, and is the originator of many cultural organ activities in this part of The Netherlands. Besides concerts, Stef Tuinstra also gives lectures and masterclasses in various European countries, but also in the USA and Japan. He is the present incumbent of Nieuwe Kerk in Groningen.
A look behind the scenes
Organ lovers throughout the world come to Groningen for the organ in the Martinikerk, either to play or to listen to it. During the masterclass, people staying in or just passing through Groningen may drop in and listen to the music, and to the expert comments Stef Tuimstra gives to students of the masterclass.
Why is this organ such an exceptional instrument? Not only is it one of the largest, it is also very old. Its construction started around 1480, and was supervised by the great Groningen humanist scholar Rudolf Agricola. The organ developed into the wonderful instrument it is now in the 18th century, when it was extended and embellished by Arp Schnitger, by his son Franz Casper and by Albertus Hinsz, respectively. When a comprehensive restauration took place in the latter half of the previous century, the organ's condition of about 1740 was taken as a point of reference. The organ has 3500 pipes and 53 stops, three manuals controlling three divisions, and pedals.