When:
2 November 2017 @ 17:30
2017-11-02T17:30:00+01:00
2017-11-02T17:45:00+01:00
Where:
Lutherse kerk
Haddingestraat 23
9711 KC Groningen
Nederland

Cost:
€ 15,- (revenue goes towards the organ reconstuction)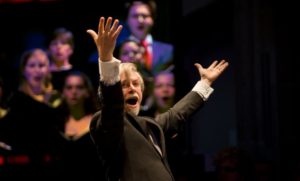 Masterclass: performance and techniques in baroque orchestral organ music
Jos van Veldhoven and the Nederlandse Bachvereniging
With the orchestra of the Nederlandse Bachvereniging, Jos van Veldhoven does a masterclass for musicians who wish to extend their skills in the practice of baroque organ music, in co-operation with the orchestra. It is a great opportunity to study under the guidance of the artist Jos van Veldhoven, who is also the professor of choir conducting at the Conservatories of Amsterdam and The Hague.
The sessions are actually public rehearsals, in which Van Veldhoven teaches how to gear choir and organ. He also teaches on theory and practice of performing baroque music, and os the audience will get an inside view of the study of both organists and orchestral musicians.
The Nederlandse Bachvereniging is the pre-eminent baroque ensemble of The Netherlands. In the 2021-2022 season, this ensemble is going to celebrate its 100th anniversary, and some time ago it was therefore decided to perform all of Bach's works. To get as close as possible to Bach's own world, his music is staged in the most appropriate venues: cantatas in churches, chamber music in mansions or private homes, and so forth. On the website allofbach the performances are to be found together with interviews with the musicians and background information. It is a great treasure trove for all those who want to find out everything they always wanted to know about the master.
The proceeds go towards the building of the organ
The takings of the masterclass tickets will be added to the budget for the Schnitger organ reconstruction. The budget does not yet cover all of the costs. All donations, however small – or big! – are thankfully accepted. Should you be interested in sponsoring possibilities, please contact us.