When:
5 November 2017 @ 12:00
2017-11-05T12:00:00+01:00
2017-11-05T12:15:00+01:00
Where:
Lutherse Kerk
Haddingestraat 23
9711 KC Groningen
Nederland

Cost:
€ 10,- kinderen onder 16: € 7,50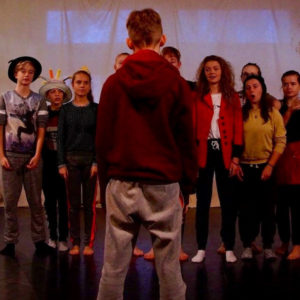 Theatre Company 'De Noorderlingen: Revolutionary Luther
Actors: Sara Scholten and the theatre compagny De Noorderlingen
Organist: Vincent Hensen

3 performances: Start11.00, 14.00 en 19.30 h
The dramatist Sara Scholten, the organist Vincent Hensen and the actors of theatre company De Noorderlingen (a group of prospective drama school students) address Martin Luther's Reformation, and translate his protest into acts and songs of their own. This music play, produced and played for students in secondary schools, is now performed for the first time. And a very personal performance it is too! The historical facts are certainly there: Luther did nail the 95 theses onto the Wittenberg church door, but then the theatre makers ask the audience and themselves: what are your ideas and ideals? What sort of theses would you put up on our society's notice board? Be prepared for interactive drama, a morally challenging play, in which actors and audience are invited to pass on, to exchange or even reform their views.
"Let the world sleep its one-eyed sleep ……. we'll play! Starry-eyed idealists, visionaries, optimists! Listen carefully to the inevitable dilemmas of belief, and of things unthinkable and unbelievable. But beware: in this revolution there are no winners and losers: the trophy is trust in your ideals!"