When:
3 November 2017 @ 17:00
2017-11-03T17:00:00+01:00
2017-11-03T17:15:00+01:00
Where:
Lutherse Kerk
Haddingestraat 23
9711 KC Groningen
Nederland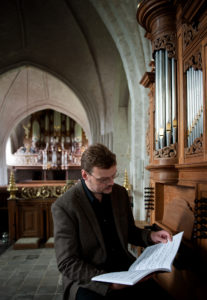 Organ Concert
Organist: Sietze de Vries
Even more than usual, the organist puts his stamp on the character of this recital: Sietze de Vries plays his impromptu compositions in stile barocco, and he is an expert in showing the full range of the instruments he plays. As a concert organist, he gets invitations to perform throughout the world, but on this November day it is the new baroque organ in the Lutheran Church he will illustrate. The great attraction in this recital will be the many ways in which this virtuoso organist paints and combines the many colours of the organ.
Commissioned by the Dom in Hamburg
The programme is a recreation of the 'Orgelprobe Aufgaben', described by Johann Mattheson (1681 -1764) in his book 'Grosse General-Baß-Schule'. He mentions in detail the terms and conditions – set by the Hamburg Dom Council – which prospective organists had to meet. The candidates were not supposed to play organ literature, but they had to improvise on the spot: a Prelude and Fugue, but also variations on a given hymn tune. Sietze de Vries is this evening's applicant for the post of Hamburg Dom organist, and sits this 'Probe' showing both his own prowess and the versatility of the instrument.