When:
3 November 2017 @ 13:00
2017-11-03T13:00:00+01:00
2017-11-03T13:15:00+01:00
Where:
Der Aa-kerk
Akerkhof 2
9711 JB Groningen
Nederland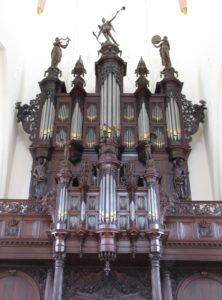 Townsfolk Sing-In cum Noorderlicht Exhibition
Organist: Peter van Dijk
There is a whiff of nostalgia in this concert. Some of the older generation will remember this endearing phenomenon of singing together to the sound of the impressive Der Aa-kerk Schnitgerorgel. Church sevices in this huge edifice are now a thing of the past. But those who love organ music and singing – and have an hour to spare around noon – can have a wonderful time here.
The organist Peter van Dijk will treat his audience to an elegant, light and cheerful programme, including songs by the Groningen bard Ede Staal, and of course 'Grönnens Laid': the Groningen popular anthem.
Our Schnitger Festival coincides with the photo exhibition Noorderlicht. The exhibition is on display in Der Aa-kerk, and those attending this Sing-In can also enjoy the exhibition – which focuses on art and science this year – in the bargain.
We should like to thank Bijzondere Locaties Groningen and Fotofestival Noorderlicht