When:
5 November 2017 @ 10:00
2017-11-05T10:00:00+01:00
2017-11-05T10:15:00+01:00
Where:
Martinikerk
Martinikerkhof 3
9712 JG Groningen
Nederland

Cost:
Entrance is free; collections taken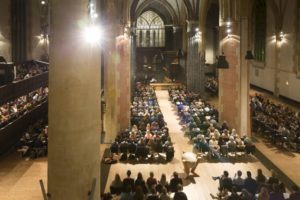 Municipal Musical Morning Service
Ensemble Ars Cantandi, conductor Markus Nitt (Wilhelmshaven)
Organist: Stef Tuinstra
Entrance is free; collections taken
This morning service is an international event, in which the German ensemble Ars Cantandi will perform Bach's Cantata BWV126 'Erhalt uns, Herr, bei deinem Wort'. Another prominent part will be played by the Schnitger organ in this church. The Church Service is an ecumenical service initiated by the Lutheran Congregation, the United Protestant Church, the Arminian church and the Student Platform for Philosophy and Belief. There is a special Sunday school service for children of primary school age.
In view of the 500th anniversary of Luther's courageous stand, the selection of this canata was very appropriate. Luther wrote some of the text himself, and of course the music is breathtakingly beautiful, in the choral parts as well as in the arias. John Sebastian Bach first performed this piece – he never called such things 'cantata', but quite simply 'Stück' ('piece) – on 4th February 1725 (Sunday Sexagesima).