When:
3 November 2017 @ 19:30
2017-11-03T19:30:00+01:00
2017-11-03T19:45:00+01:00
Where:
Der Aa-kerk
Akerkhof 2
9711 JB Groningen
Nederland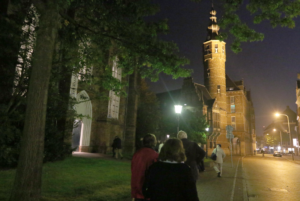 Organ Night with five organists, two organs, a stroll from the one church to the other
From der Aa-kerk to Martinikerk, and a glass of mulled wine.
Organists Der Aa-kerk: Geerten Liefting en Stephan van de Wijgert
Organists Martinikerk: Peter van der Zwaag, Gonny van der Maten, Wouter Koelewijn
Not many people realise that, in 1697, the great organ builder Arp Schnitger regularly walked across Vischmarkt, living as he did in Groningen at the time and working on the construction of the then biggest Dutch organ in Der Aa-kerk. It is worth remembering this when you walk from Der Aa-kerk to Martinikerk – with a welcome surprise en route – where the second leg of the concert takes place.
This is your chance to hear, in one and the same evening, two Schnitger organs and five organists, each doing their own very special thing. And all this happens in two magnificent churches rich in atmosphere and wonderful acoustics. The first part of the concert is in Der Aa-kerk, where Geerten Liefting plays impromptu compositions, and Stephan van de Wijgert treats us to late romantic organ music. The existing organ is not the original 1697 instrument, because that instrument was destroyed when the tower and spire of Der Aa-kerk collapsed. The present Schnitger organ was built in 1702 and was transferred from Broerkerk to Der Aa-kerk in 1814.
Groningen's Martinikerk boasts probably the finest organ in the country. Here, Peter van der Zwaag presents music dating from before Bach's time, Gonny van der Maten takes on Bach himself, and Wouter Koelewijn plays neo-baroque music. Organ lovers from all over the world come to Groningen in order to hear or play this instrument. The earliest material of the organ dates from around 1480, and the great Groningen scholar and humanist Rudolf Agricola was concerned with the earliest stage of construction. In the history of the organ, its most glorious period was the early 18th century, when Arp Schnitger, his son Franz Casper and Albertus Antoni Hinsz extended it considerably. When the organ was restored in the 1970s and 1980s, the situation of about 1740 was taken as a benchmark. The organ has 3500 pipes en 53 stops, three manuals controlling three divisions, and the pedal, making it one of the largest baroque organs in Northern Europe.
This very special evening, with so many different musical styles in two different churches, is a wonderful opportunity for those people who wish to get a little more familiar with organ music. They will get a very interesting sample of organ music, played by excellent musicians playing some of the world's finest organs.